Profile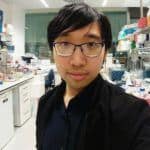 Xiaohan Li
My CV
Education:

I studied at Beijing No 8 High School in Beijing China before spending 4 years at Peking University in China for my undergrad majoring chemistry. I then got my PhD degree from Yale University in the US.

Qualifications:

I got awards in social activities in my undergrad for organising events and serving as chair of mystery club in my university. I got all honour grades for my masters degree and conference travel fellowship twice in my PhD to present my research. Most recently I got Marie-Curie Individual Fellowship to support my research.

Work History:

I started to work as an undergrad research assistant doing organic chemical synthesis. Then during my PhD as both teaching fellow in general and physical chemistry for undergrads and research assistant shooting protein molecules with lasers to measure their structural changes (which is super cool!). Now I combine multiple techniques to study the molecular biology of proteins in tardigrades.

Current Job:
About Me:

I'm a investigator scientist based in Cambridge. Love anime, football, Japanese music and mysteries.

Read more

I was born in Beijing, China and lived there till I got my bachelor's degree in chemistry, where I really got interested in how protein molecules function to make all living organisms alive. After getting my PhD degree in the US I moved to Cambridge 3 years ago, working at the Laboratory of Molecular Biology. Anime, football and mysteries are my source of inspirations, apart from science. 🙂

Read more

Tardigrades are a kind of small tiny organisms living in water. They have attracted lots of scientists for their ability to survive extreme conditions, including extreme dryness, radiations, freezing or boiling temperatures and etc. In fact, they had been accidentally sent onto the moon last year! (see this news: https://www.livescience.com/moon-tardigrades-future.html)

I want to try my best to understand what makes the tardigrades "invincible" to these stresses and if we could take advantage of the key molecules which are involved in this resistance. Previous researches suggested that some families of proteins which do not adopt a defined structure, like an enzyme, might play an important role in their survival. So I'm now making this proteins and combining multiple methods, including cell imaging and multiple biophysical methods, as well as computational analysis, to understand how these proteins protect these amazing organisms.

My Typical Day:

I get up around 7 and bike to the lab. Before having breakfast I deal with my emails and read research articles. I generally have a rich breakfast and then start my work in the wet lab, making new proteins, culturing cells and shooting my favourite protein with lasers. Throughout the day I chat with my colleagues for all topics. 😉

What I'd do with the prize money:

Buy some tardigrades to culture them (and play with them of course!). Then I'll take them to schools and watch them with students to see how these lovely creatures play under the microscope. 🙂
My Interview

How would you describe yourself in 3 words?

curious, energetic, persistent

What did you want to be after you left school?

Scientist

Were you ever in trouble at school?

Yep, for challenging my teachers with tough questions

Who is your favourite singer or band?

Shikata Akiko/Sound Horizon

What's your favourite food?

Ice cream

If you had 3 wishes for yourself what would they be? - be honest!

Remember every dream I have; become a composer; learn to speak > 6 languages

Tell us a joke.

A receptionist at the hotel asked a photon: "Do you have any luggages?"; "No," the photon answered, "because I'm travelling light."
---
---