Profile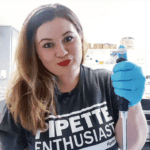 Sophie Arthur
Had the best few weeks being a part of I'm a Scientist. Thanks everyone!
My CV
Education:

Ysgol Greenhill School (Secondary School)
University of Bath (Undergraduate)
University of Southampton (PhD)

Qualifications:

BSc: Molecular & Cellular Biology, MRes: Biomedical Science, PhD: Stem Cell Science
11 GSCEs and 4 A-Levels

Work History:

My first job was washing up in the local pub and restaurant. I then moved up to waitressing, cooking and working on the bar. This is where I got to meet and cook for Russell Crowe, Ellie Goulding, Greg James & Professor Stephen Hawking.
I worked for one year at Public Health England measuring antibody levels against a bacteria called Group B Strep in blood samples.
I worked as a freelancer in science communication alongside my PhD creating blogs, social media posts and such for clients. I also worked at the Post Office sorting office over Christmas for some extra money during my PhD.
Since I graduated from my PhD I have worked in my current role.

Current Job:

Science Communications Officer at MRC London Institute of Medical Sciences
About Me:

Stem cell researcher turned science storyteller. I also write a blog and love all sports when not talking about science

Read more

Hi! I'm Sophie. I live just outside Cambridge but work in London, and I have recently got married and bought a house with my husband (still weird to say!).

I used to research stem cells in the lab and work out how low oxygen environments helped them stay as stem cells. But just over a year ago, I left the lab to become a science communicator. I now help other scientists to tell the world about their latest discoveries, which is really great as I always love learning and I get to learn about so much doing this. Plus, I get to be creative and write, make videos, do photography, graphic design, create art and more all in the name of telling science stories.

When I am not at work, I also write an award-winning science blog. I love playing hockey, cricket and netball but I will watch and try all sports. I love cooking and eating food, so I'm always looking for new recipes to try. And I am always looking for flights to be able to travel the world as I love exploring. Recently, I have been to Barbados, Lisbon and Czech Republic, and we are going to Dubai and Bali in a few months for our honeymoon.

I can quote every episode of The Big Bang Theory. I eat far too much chocolate. We are getting kittens very soon (looking for names!), and I got to cook for Professor Stephen Hawking a few years ago.

My pronouns are she/her.

Read more

I started my job just over a year ago because I loved science and I loved being creative. So I left the lab behind and started a career in science communication – a career I didn't know existed 3 or 4 years ago!

I work at a medical research institute where I help researchers share their science in fun and engaging ways so more people can learn about the latest discoveries.

Unlike most of the other scientists on here, I get to learn about loads and loads of different science, and not just specialise in one area. One week I can be learning about the latest artificial intelligence machines for keeping your heart healthy, the next I could be learning about how brain cells called neurons repair after brain injury, and the next I could be learning about how fat cells can become more like muscle cells to burn off more energy. As someone who likes to learn a lot, this is perfect for me!

All the scientists I work with do years of hard work to make their latest discovery. Once they have done that they write it all up and publish it. This is the point where I come in. Scientists want people to hear about their research as they have worked so hard for so long on it, so I have to write articles, make videos, social media posts and pitch that to newspapers and magazines so the public can learn about it too. I also make videos so that people on YouTube can learn new things too. I also organise events where school students can come and meet the scientists I work with to learn about their research, and I help the researchers to design acitivities that will make it even more fun to learn about.

My Typical Day:

It is really varied, but mainly involves being sat at my desk in front of a computer either updating social media or writing or editing a video.

Read more

As I work in London, but I don't live there, my day usually starts at 7am when I catch the train and I spend 2 hours making my way into the office. I always start the day by checking my emails and then making a 'To Do' list of the essentials I must get done today. For the rest of the day, it can really vary.

Sometimes I will be in the lab filming some scientists to make videos, or recording an interview with them so I can make a mini podcast episode, or write an article about their latest research. Other days I will be focussed on social media. I will be planning campaigns, I will be analysing what works well and what doesn't work so well or making sure to chat to people online to build relationships. Other days I could be at training myself, or holding a training session for my colleagues. I teach them about how to use social media as a scientist, how to make demos to explain their research, or how to talk to school children about their science too. Sometimes we are holding events so I will be making sure we have everything we need, and preparing everything.

Then I spent two hours heading back home on the train before I binge watch something on Netflix or write my next blog or Instagram post. Obviously get some delicious food for dinner too!

What I'd do with the prize money:

I want to make YouTube videos about science experiments you can eat aka food!
My Interview

How would you describe yourself in 3 words?

Curious, Ambitious, and Creative

What did you want to be after you left school?

I wanted to be a doctor when I started secondary school, but I was always going to be doing science of some kind

Were you ever in trouble at school?

Not really. I was a bit like Hermione Granger really.

Who is your favourite singer or band?

I love Michael Buble! But I also love country music so I love Carrie Underwood and The Shires too

What's your favourite food?

I would say all of it really. But I don't think I could live without cheese so I would say that.

If you had 3 wishes for yourself what would they be? - be honest!

I wish I could have more confidence in myself and worry less. I wish I could get paid to travel around the world and speak all the languages. I wish I was a wizard and not a muggle.

Tell us a joke.

Why did the physics teacher break up with the biology teacher? There was no chemistry.
---
---