Profile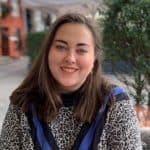 Robyn Kiy
Thanks for the fab questions, everyone! Bye 🙋‍♀️
Curriculum Vitae
Education

The Thomas Hardye School (2010-2015) - I did my GCSEs and A Levels here!) // University of Liverpool (2015-2019) - Meaning I am now official an 'MBiolSci' (Master of Biological Sciences, specialising in Pharmacology). My course included a year in industry, so during this time I spent a year working in Cambridge. // University of Liverpool (2019-present - I'm due to graduate in 2023) - I'm now a pharmacology PhD student.

Qualifications

I have 13 GCSEs (for my options I took German, dance, history, and food technology). I did maths, biology, and chemistry as A Levels and history up to AS Level. My most recent qualification is quite a mouthful... Masters in Biological Sciences specialising in Pharmacology, with Industrial Placement (MBiolSci). I also have dance qualifications, including a distinction in Grade 7 ballet (RAD).

Work History

My first job was at a country store, where I worked on the checkouts, stacked shelves, and also had to fit riding hats! After this I worked on the checkouts at Tesco, and finally I worked at a pharmaceutical company for a year as part of my undergraduate degree.

Current Job

I am currently a full-time PhD student, so I get to learn new things everyday! I'm researching ways to improve drug safety.

Employer

University of Liverpool, supported by the MRC.
Favourite thing to do in my job: I love thinking about new ways to test my hypothesis! Doing a PhD is very exciting because you can often make your own decisions about what to test and how to test it. One of my favourite techniques involves staining different parts of cells with fluorescent dyes so you can clearly see what is happening inside a cell when it is dosed with a drug.

About Me: I am a PhD student in Liverpool, and I also love dancing and cooking! My favourite thing to do is explore new places.

Read more

I was born in Essex, grew up in Dorset, but now live in Liverpool! During the day I am usually in the lab trying to figure out why medicines that should make us better can actually make some people more ill. In my spare time I enjoy dancing, running, and cooking, and my favourite place to be is by the sea.

My Work: I am trying to find out why medicines that should make us feel better can make some people feel worse.

Read more

Not everybody reacts in the same way when treated with medicines. One reason for this is because we have different DNA. DNA is what determines how living things look and function.

Mitochondria are parts of our cells that make energy. This energy is used for important jobs, such as cell growth – so the mitochondria are really powerful!

Mitochondria also have their own DNA. I am researching how this DNA may influence how different people react to medicines, and particularly how this can cause liver damage in certain people.

My Typical Day: One of the best things about being a scientist is that every day is different! But normally I get to work at 9am to make sure my cells are happy and healthy. Then I spend my day either reading, writing, doing experiments, looking at data, or a mixture of all of these.

Read more

Being a scientist is great because each day is slightly different.

I get to work at 9, and usually check my emails first. After this, I will look at my diary to see what I have planned for the day. Usually I have lab work to do. This can be for a variety of things, but almost always starts with checking on the cells I have growing in the lab. I check these to make sure they're healthy, have enough nutrients, and haven't become too big for their container.

After this, I will carry out experiments. Most of my work involves checking how cells respond to different drugs. To test this, I will measure the energy or protein levels of the cells, or stain them using fluorescent dyes so I can look at any changes under a microscope.

When I'm not in the lab I will be at my desk analysing data, reading, and writing. A large part of being a scientist involves reading about work that other scientists are doing, and writing reports about our own work. Luckily, I share my office with some brilliant people, so there's always time for a chat and cup of tea to break up the hard work!

When I am finished for the day I head home at around 5pm. Most days I go for a run, and then either chill at home with my boyfriend, or go out to meet friends.

What I'd do with the prize money: I would love to use the prize money to fund some fun, interactive sessions where school children can find out more about the huge range of careers available within biology.

Read more

I would love to use the prize money to fund some fun, interactive sessions where school children can find out more about the huge range of careers available within biology. I think it is important that people are aware that you don't need to have the highest grades possible to work in science. Also, there are loooaaads of different job opportunities that relate to human health  – not just doctors and nurses!

My Interview

How would you describe yourself in 3 words?

Enthusiastic, friendly, and ambitious

What or who inspired you to follow your career?

I had really great science teachers at school who encouraged me to explore my interests further. When I got to university, I was really motivated by my academic tutor. She encouraged me to be confident in my abilities, which led to me being where I am today!

What was your favourite subject at school?

Ooh, this is a tricky one. I really enjoyed history and chemistry, but I think biology had to be my favourite.

What did you want to be after you left school?

When I was at primary school I wanted to be a vet. When I was a bit older I decided I wanted to be the next David Attenborough. Eventually, I decided I wanted to be a scientist.

Were you ever in trouble at school?

I'm very chatty so that got me in trouble a few times!

If you weren't doing this job, what would you choose instead?

If I couldn't be a scientist I would be a wildlife camera operator so I could travel all over the world.

Who is your favourite singer or band?

I love the Courteeners, Lizzo, and Lily Allen.

What's your favourite food?

Veggie pad thai!

What is the most fun thing you've done?

I learnt how to scuba dive which was amazing! Seeing different marine creatures up close in their natural habitat was unforgettable.

If you had 3 wishes for yourself what would they be? - be honest!

My first wish would be being able to teleport, so that I could travel the world for free! My second wish would be that I could sing really well, and my third wish would be to make a really important scientific discovery that led to lots of lives being improved.

Tell us a joke.

Why did no one in prison want to pick on the mitochondria?... Because it was the powerhouse of the cell
---
---