Profile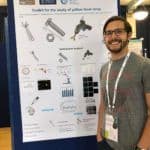 Ricardo Sanchez
My CV
Education

I did my GCSEs and High School in Mexico city
Then I moved to Glasgow to study my undergraduate and my PhD.

Qualifications

For my GCSEs I got grades from A* to C. Funny enough, my lowest grade was on combined sciences.

I did the international baccalaureate and obtained 35 out of 45 points.

Work History

When I was 15, I worked in a factory building cabinets and kitchen countertops.

When I was 18-19, I gave tours around the city of Glasgow.

Current Job

I am a part-time teacher at the University of Glasgow and I am doing my PhD at the same time.

Employer

The University of Glasgow
About Me:

I am a mexican student passionate about science, music and books.

Read more

I moved to Glasgow almost seven years ago and I have loved every moment. I love eating out and watching movies. I am a teacher at the Glasgow University Pole Dancing Club and have competed in nationals.

My Work:

I study very little microbes to understand how they make us sick. I am currently creating a medicine to avoid getting sick!

Read more

I am studying a virus called yellow fever virus. Those who have travelled to the Americas or Africa might have heard of it. The virus lives in mosquitoes and humans can get it when bitten by mosquitoes.

I am working on creating a vaccine against the virus so we dont have to worry about getting bitten by mosquitoes. But also, I am creating a medicine for those who are already feeling sick with the virus.

I work at the Centre for Virus Research in Glasgow. It is an amazing place full of scientists working on a huge variety of bugs!

My Typical Day:

I get up early in the morning and head to the Lab.
Then, I spend most of the day looking after tiny tiny creatures as if they were my pets!
I make sure to feed them and keep them warm and happy. I take note of whether they look sick or healthy.

Read more

I tend to use the morning to plan my experiments. It can take up to 2 hours to plan it out!

I usually head to the lab around 10-11 am and start working. I nourish and work with cells which come from different organs of a variety of animals.

I treat the cells with different drugs and then I try to infect them with yellow fever virus. After some days, I test how sick they got. If the cells are sick, we can conclude the drug doesn't work…but if they don't get sick, we can investigate the drug further.

Everyday is different but generally I work the hardest around midday. I use the afternoon to write everything I did during the day to keep a diary of what I am doing the lab.

What I'd do with the prize money:

I want to create a YouTube channel dedicated to microbes in the news. I want to inform and teach people about them to avoid fake news.

Read more

The idea is that I use the prize money to cover the expenses involved in opening a YouTube channel. Although I would probably be filming with my mobile phone, I would need some money for video editing software and stationary.

My idea is to do a series of videos about bugs in the news. I want to do a mixture of animations and hand drawings to explain to everyone in simple terms what's going on.
My Interview

How would you describe yourself in 3 words?

Smart, open-minded, simple

What or who inspired you to follow your career?

My high school biology teacher Hina Hashmi was my inspiration

What was your favourite subject at school?

Biology of course! :D

What did you want to be after you left school?

A doctor

Were you ever in trouble at school?

Yes!

If you weren't doing this job, what would you choose instead?

Chef at a mexican restaurant!

Who is your favourite singer or band?

Genesis!

What's your favourite food?

Hmmm probably pizza

What is the most fun thing you've done?

Placing in a National Pole Dancing competion

If you had 3 wishes for yourself what would they be? - be honest!

Eating lots without getting sick, playing the piano professionally and being able to cook!

Tell us a joke.

Why do we tell actors to "break a leg". Because every play has a cast.
My profile link:
https://ias.im/u.247298
---
---