Profile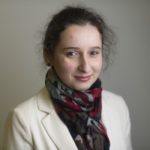 Petruta Morvay
My CV
Education:

I went from High school, Veterinary School, Masters and PhD in Romania, to nearly a decade of research abroad in countries like Germany, Belgium, UK.

Qualifications:

I was amongst the top people graduating from every level.

Work History:

My jobs involve working towards obtaining the diploma for PhD (doctorate) or as a researcher from assistant to senior researcher.

Current Job:
About Me:

I like to spend time out with friends. I like plants and animals, long walks in nature, but most of all I have fun as a scientist, in research.

My Typical Day:

On my typical laboratory day I place cells with crystals together, then I measure the response.

What I'd do with the prize money:

I would try to find an animal shelter and would use it to support animals without home or in need for treatment. During my next public engagement event I would present the animals that were treated or helped in any way by using this prize.
My Interview

How would you describe yourself in 3 words?

friendly, creative, motivated

What did you want to be after you left school?

I liked animals and treating them if they felt sick and so I studied verterinary school.

Were you ever in trouble at school?

sometimes I just wanted to study only the subjects I liked and I was in trouble for not focusing on the other topics as much.

Who is your favourite singer or band?

one direction/little mix

What's your favourite food?

spaghetti bolognese

If you had 3 wishes for yourself what would they be? - be honest!

To be able to teach, to research and to have endless wishes :)

Tell us a joke.

I just did :)
---
---