Profile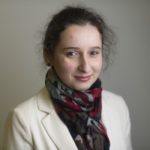 Petruta Morvay
My CV
Education

I went from High school, Veterinary School, Masters and PhD in Romania, to nearly a decade of research abroad in countries like Germany, Belgium, UK.

Qualifications

I was amongst the top people graduating from every level.

Work History

My jobs involve working towards obtaining the diploma for PhD (doctorate) or as a researcher from assistant to senior researcher.

Current Job

Employer

University of Exeter – MRC Centre for Medical Mycology
About Me:

I like to spend time out with friends. I like plants and animals, long walks in nature, but most of all I have fun as a scientist, in research.

My Work:

I'm working on using crystals to help us block pain.

My Typical Day:

On my typical laboratory day I place cells with crystals together, then I measure the response.

What I'd do with the prize money:

I would try to find an animal shelter and would use it to support animals without home or in need for treatment. During my next public engagement event I would present the animals that were treated or helped in any way by using this prize.
My Interview

How would you describe yourself in 3 words?

friendly, creative, motivated

What or who inspired you to follow your career?

My teachers inspired me with their patience with us everyday in class. When describing theirs subjects they made it fun and exciting to learn.

What was your favourite subject at school?

Biology

What did you want to be after you left school?

I liked animals and treating them if they felt sick and so I studied verterinary school.

Were you ever in trouble at school?

sometimes I just wanted to study only the subjects I liked and I was in trouble for not focusing on the other topics as much.

If you weren't doing this job, what would you choose instead?

From vet school I became a scientist, and I would go back if I got bored.

Who is your favourite singer or band?

one direction/little mix

What's your favourite food?

spaghetti bolognese

What is the most fun thing you've done?

in my home town I got engaged in after school activities. With my colleagues and teacher we went outside the city to collect river samples and study them back at the lab. The trip and the fun we had as a group and with the samples was amazing.

If you had 3 wishes for yourself what would they be? - be honest!

To be able to teach, to research and to have endless wishes :)

Tell us a joke.

I just did :)
My profile link:
https://ias.im/u.247311
---
---