Profile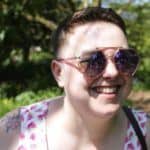 Paige Chandler
My CV
Education:

Warden Hill Infant and Junior Schools (Luton) age 4-11,

Arnold Middle School (Barton-le-Clay) age 11-13,

Harlington Upper School & Sixth Form (Harlington) age 13-18,

Imperial College London, Biochemistry BSc (Hons).

University of Oxford (current), Biochemistry DPhil

Qualifications:

GCSEs:
English Language – A*,
English Literature – A*,
Maths – A,
Further Maths Qualification – D,
Biology – A*,
Chemistry – A*,
Physics – A*,
History – A*,
German – A,
Music- B,
IT – A,
Religious Studies – A,
BTEC Outdoor Education – Distinction,

A-Levels:
Biology – A*,
Chemistry – A,
Physics – A,
Maths (AS-Level) – A,

Degree:
Bachelor of Science, Biochemistry – 2:1

Work History:

Administrative Assistant at a CCTV security company,

Undergraduate Student Worker at Rothamsted Research,

Laboratory Assistant at British American Tobacco,

Current Job:

PhD Student at MRC Harwell
About Me:

I'm a PhD student at University of Oxford, an avid Dungeons and Dragons player, and a passionate vegan.

Read more

Hi there! My name is Paige (my pronouns are they/them).

I'm 26 years old, and live in Oxford with my partner. We are both with Oxford University – me doing my PhD, and him working in the Bodleian library.

I am originally from Luton town – famous for our airport and not much else! I attended local comprehensive schools in and around Luton, and once I graduated I moved to London to do my undergraduate degree at Imperial College. After completing my bachelors degree in Biochemistry, I worked for a year in science industry before starting my PhD at Oxford.

Both my partner and I are vegan, and one of our weekend activities is going around Oxford to try new vegan foods in markets and restaurants. We also do a lot of creative home cooking, making a wide range of vegan dishes. My speciality is macaroni and 'cheese', while my partner makes amazing tofu bacon. We have recently gotten an allotment patch near our flat, and are planting it out so we have a constant supply of fresh herbs and vegetables.

I love to play Dungeons and Dragons – my partner and I play every week with a group of friends who live nearby. I am the Dungeon Master, running the games and creating the world, and my friends play a wide range of characters – from wizards to bards!

I am also a person living with Bipolar disorder. I wanted to mention this to let students know that it is possible to live a full life, and achieve your goals, while living with a disability.

Read more

My project is studying the mouse brain, both it's structure and how it controls the behaviour of the mouse.

I have 'normal' mice, and then I have lots of mice that have changes (mutations) in their genes to cause changes in their brain structure. These are changes that could be linked to schizophrenia – a serious psychiatric illness. I am hoping that my studies could help us understand how schizophrenia works, which could help us develop better medicines and treatments.

I spend a lot of time observing and working with my mice, to understand how the changes in their brain could make them behave differently. I run tests to see how they walk, how they run, deal with a stressful situation, react to loud noises, behave around other mice, solve puzzles, eat, and sleep. Some test examples:

I also carry out surgery on some of my mice, as part of making different kinds of changes to their brain structure. Just like with human surgery, the mice are put under anaesthesia so they are asleep when we operate on them. These are simple surgeries that do not require too much recovery for the mouse, as we are always mindful of making sure our mice are happy and healthy.

As part of my project I also study the structure of the brain in my mice. I use dyes to stain brain slices for different cell types, and look for structural changes that could show the mice have similarities to the brain structure of humans with schizophrenia. I then look at these brain slices under a powerful microscope that uses lasers instead of white light.

Alongside my work with the mice and their brains, I am also looking at gene mutations that might be linked to schizophrenia. I work in the lab cloning genes, adding mutations, and carrying out assays that tell us how the mutations in the genes can change the properties of the translated proteins.

My Typical Day:

I split my time between my lab, and the animal house across the road. In the lab I study the structure of the mouse brain and genes linked to schizophrenia, or I am in the animal house studying my mice's behaviour.

Read more

My lab is far away from the city, in the middle of the countryside. It's part of a large campus called Harwell Campus. The scientists at my institute all work on mice, using them to study different aspects biology and medicine.

I ride the bus from Oxford city out into the countryside to the Harwell Campus. Once I'm at work I switch my computer on, check my emails, and have a look in my diary to see what experiments I have planned for the day. Some experiments are small and take only the afternoon, some experiments take a whole week and need careful planning!

I sometimes work in the lab or on the microscope. Here I look at brains and brain cells, studying their properties and taking lots of pictures to analyse. You have to keep yourself safe in the lab – wearing shoes that totally cover your feet (no flip flops or dolly shoes!), a clean lab-coat, safety goggles, disposable gloves, and tying back long hair.

Sometimes I will work in the Mary Lyon Centre, which is a building across the road from my lab. This is where my mice live, along with thousands of other mice. It takes some time to get into the animal building. When you enter, you have to get completely changed out of your clothes and into special jumpsuits that have been thoroughly cleaned. You then have to walk through an 'air shower', which is like a normal shower only instead of water you get blasted with clean air. This is to make double sure you aren't bringing in any dirt or germs from outside, which can make the mice ill. Here, I work with my mice – looking at their behaviour in different ways, or sometimes carrying out surgery on them.

I also check my mice often, to make sure that all of my mice look happy and healthy. I'm not the only one who does this – there are many different staff members who check on the mice regularly. If any of them are unhappy or sick, the animal technicians are experts on mouse welfare, and know how to help the mice feel well again. I care about my mice very much, since they depend on me to keep them safe and well. It's a responsibility I take very seriously.

When my experiments are finished for the day, I clean up my work areas in the lab, make sure all the mice are put back in their cages for the night, and catch the bus back to the city.

What I'd do with the prize money:

I would love to use the prize money to develop more exciting activities for my group to be able to take to science festivals and schools, teaching people about the brain, sleep, and behaviour.
My Interview

How would you describe yourself in 3 words?

Disabled, yet determined!

What did you want to be after you left school?

I've always wanted to be a scientist, except for when I was 6 and wanted to be a secret agent.

Were you ever in trouble at school?

I used to get in trouble for breaking dress code with outrageous hairstyles and makeup.

Who is your favourite singer or band?

Scissor Sisters

What's your favourite food?

Vegan Pizza

If you had 3 wishes for yourself what would they be? - be honest!

To be taller (I always wanted to be 6ft), to dismantle capitalism, and cure all disease.

Tell us a joke.

Why does vegan cheese taste bad? Because it hasn't been tested on mice!
---
---