Profile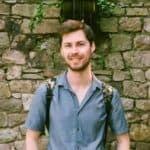 Nathan James
My CV
Education:

I did my GCSEs at Impington Village College before moving to Hills Road Sixth Form College in Cambridge for A-Levels. I then went on to study at the University of Cambridge for four years as an undergraduate and another three and a half years as a PhD student.

Qualifications:

Postgraduate: PhD in Biological Sciences, University of Cambridge
—
Undergraduate: MSci in Natural Sciences, First-Class Honours, University of Cambridge
—
A2-Levels: 3 A (Biology, Chemistry, Mathematics)
—
AS-Levels: 2 A (Further Mathematics, English Literature)
—
GCSEs: 7 A* (Biology, Chemistry, Physics, Mathematics, English Literature, English Language, History), 2 A (Geography, Business Studies), 1 C (French)

Work History:

I spent a month living in the Amazon rainforest doing ecology and conservation research, I had a marketing job at the Royal Society of Chemistry, and I did computational work for the Department of Chemistry in Cambridge. I then got a summer studentship at the MRC Laboratory of Molecular Biology in 2012, found it was the best place in the world to do science, and decided to stay for my PhD! I spent most of 2019 working as a postdoctoral researcher at the University of Oxford, but I'm now back in Cambridge!

Current Job:

Research Scientist and Freelance Tutor
About Me:

I'm a postdoctoral research scientist, freelance tutor, aspiring science communicator, and all-round nerd. I love my wife, my kittens, and my PlayStation, and I'm fascinated by the history of science. I'm also a follower of Christ Jesus, and I find immense joy and encouragement in learning about his Creation – the natural world.

Read more

I'm a dinosaur-obsessed nerd and lover of the natural world who somehow wound up in a sterile laboratory studying the chemistry of living things. I live with my beautiful wife, Sian, and our two naughty kittens, Miso and Mochi. Sian has a PhD in archaeology but now works as a freelance illustrator. Somewhat unusually, I have lived in Cambridge all my life (except for one year in "the other place"). But it's a fantastic international city – the whole world comes here to study and work. Almost all the people I interact with on a daily basis are foreign to the UK, including my wife!

For my PhD, I joined the research group of Dr. Venki Ramakrishnan at the MRC Laboratory of Molecular Biology in Cambridge. Venki was one of the first scientists to solve the atomic structure of the bacterial ribosome, for which he won the 2009 Nobel Prize in Chemistry. For the last few years he has been President of the Royal Society, which is really cool but means that he is often away from the laboratory. Nevertheless, Venki is a fantastic supervisor and an inspiration even when science is tough.

After a year in Oxford, where I learnt new experimental methods and developed a passion for science communication, I'm now back in Cambridge as a postdoctoral researcher. I'm currently juggling two projects – one looking at human ribosomes with Venki and another on circadian clocks with Dr. John O'Neill. Did you know that every cell in your body keeps track of time using its own molecular clock?

Read more

The cells in your body are made from billions of complex molecules that assemble together and behave like miniature machines, keeping your cells alive and healthy. I isolate these machines, take pictures of them using electron microscopes, and use the data to build 3D models on a computer. This way, I can see the structures of the machines in high resolution, almost down to their atoms, and figure out how they work. I also use biochemical and biophysical experiments to learn more about them.

 

My current research focuses on ribosomes – the molecular machines that read your DNA and use that information to make all the proteins that your cells need. This process is called translation and is essential for all life. I'm particularly interested in the initiation phase of translation – how ribosomes recognize the correct message that needs to be translated, what additional machinery is involved, and how this process is regulated by the cell.

A really important example of something that regulates translation is the circadian clock – the timekeeping mechanism built into every cell in your body. Your clock controls the behaviour of your ribosomes, so they make different proteins at different times of day. I want to understand how that happens!

My Typical Day:

Each day is different, but I usually do experiments at the lab bench, run data processing on the computer, attend seminars, and ponder the mysteries of biology.

Read more

I'm not sure what a typical day is! My research is so varied, and I work flexible hours so I can change my schedule easily. I usually arrive in the lab at about 9:30 in the morning and start by checking any experiments that have been running overnight, such as growing bacteria or data processing on the computer. I then work until about 7:00 or 8:00 in the evening, hopping between my desk (for computer work) and my lab bench (for experiments). I also attend lots of seminars and, when time allows, I go to the gym in the evening with my colleagues.

The lunch break is very important, as are the morning and afternoon tea breaks. Where I work, there is a strong culture of encouraging tea breaks so that all the scientists can get to know each other and inspire each other with new ideas.

Most of my time is spent doing biochemistry – isolating proteins and ribosomes and trying experiments – but occasionally I get to use the multimillion-pound electron microscopes. I usually book sessions for one or two whole days and collect thousands of images which I then have to spend several weeks processing using a supercomputer. If everything works, this leads to an exciting new molecular structure!

What I'd do with the prize money:

I want to develop a microscopy-themed outreach programme using the latest technology, teaching young people about how scientists use microscopes to learn about the invisible world all around us.
My Interview

How would you describe yourself in 3 words?

Awestruck by Nature!

What did you want to be after you left school?

A palaeontologist!

Were you ever in trouble at school?

Sometimes, yes!

Who is your favourite singer or band?

Johnny Cash.

What's your favourite food?

Dim sum in Hong Kong.

If you had 3 wishes for yourself what would they be? - be honest!

My first wish would always be for my next experiment to work! The ability to teleport would also be cool, and I would totally abandon my career and join any organization that clones dinosaurs if that were possible.

Tell us a joke.

I never forget a face, but in your case I'll be glad to make an exception.
---
---