Profile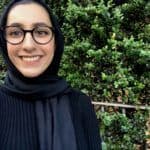 Mahrukh Shameem
My CV
Education

Secondary School – Bemrose Communitt School

University for Bachelors – Nottingham Trent University

University for Masters – University of Nottingham

PhD- University of Sheffield

Qualifications

GCSE – 13 including Maths and English all A-C

A Level – Biology, Chemistry, ICT (BBB), AS Maths (C)

BSc (Hons) – Biomedical Sciences

MSc – Clinical Microbiology

Work History

Institute for Lung Health Leicester – Lab technician

3 mobile – Sales Representative

University of Leicester – Lab technician

Birmingham City University – Lab technician

Current Job

Right now I'm a PhD student at the university of Sheffield where I'm learning more about the lungs and how we stay healthy

Employer

Im doing a PhD The University of Sheffield with AstraZeneca. I am funded by the MRC within a doctoral programme called Discovery Medicine North.
About Me:

I'm a PhD student at Sheffield where I am trying to learn how our lungs work to keep us healthy! I've worked in other universities before coming here, helping students to learn techniques in the lab

Read more

I'm originally from Derby where I share our house with my big family and our cat! I now live in Sheffield in my own little apartment where I spend my days knitting, writing, reading and cooking! My new favourite hobby is pottery where I try to make bowls and mugs!

My Work:

I'm a PhD student at The University of Sheffield. In my PhD I will be trying to understand how the lungs work to keep us healthy!

Read more

I'm a PhD student at The University of Sheffield. In my PhD I will be trying to find out how specific molecules change the lungs ability to fight infections. I will be looking at how the lungs work to keep us healthy! I will be using mice to do this.

My Typical Day:

I get up in rainy Sheffield and walk to the university. I then use different ways to look at the lungs and see how they're working. To do this, I will use mice.

Read more

On a normal day I will come into lab at 9.30 and check my emails and make sure that I reply to anything important. At 10.30 we have lab coffee where we all go to the cafe in our building and have a break. I normally eat breakfast at this time. After this I normally help with the mice. To do this I have to wear a face mask, shoe covers, gloves, hair net and a lab coat and make sure that everything is clean. I help weigh the mice and make sure they're happy and healthy. This takes an hour. I come back, have lunch and do some more work. I am currently plannin my experiments so its a lot of computer work. I normally finish around 4pm and go home! I go to the gym some days but make sure that I am spending my time at home being happy!

What I'd do with the prize money:

I hope to use the money to bring virtual reality in to class rooms and show how you can use it in learning.

Read more

I hope to get into contact with a virtual reality (VR) company to introduce newer technologies into the class room. Using the VR headsets I aim to bring an immersive new experience inot thw class room. There are a lot of things that we can see using this system. Like how  the little molecules in the body that work together to protect us from infection or grow!

So I hope to use the money to go tow schools across Sheffield and Derby to show how technology and science can be used in education!
My Interview

How would you describe yourself in 3 words?

Funny, Enthusiastic, Creative

What or who inspired you to follow your career?

My sister. She was the first person in my family to go to University and now is a English teacher. I want to help as many people as she does!

What was your favourite subject at school?

Ohhh I can't pick one! Either Art it Science

What did you want to be after you left school?

I didn't actually know what I wanted to do. I just knew I liked science and wanted to learn more about it.

Were you ever in trouble at school?

Well my and my friends would talk too much in class so sometimes we would get told off! But other than that I think I behaved!

If you weren't doing this job, what would you choose instead?

Maybe becoming a teacher? Or go into graphic design art?

Who is your favourite singer or band?

I don't think I have one! But I saw Coldplay live and they were great. I also like rap, folk, pop, k-pop and rock.

What's your favourite food?

I like ALL foods!

What is the most fun thing you've done?

I went skydiving for my birthday! It was so scary but I felt like I was flying through the air.!

If you had 3 wishes for yourself what would they be? - be honest!

I would wish that I play every instrument, talk to animals and have inner peace!

Tell us a joke.

Why does Mario prefer to hang out with Toad more than Luigi? Because he's a fungi.
My profile link:
https://ias.im/u.247301
---
---