Profile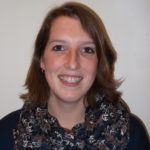 Lotte de Winde
My CV
Education:

I did all my education in the Netherlands. I did secondary school in Leiden, which is between Amsterdam and The Hague. For my university studies, I moved to Maastricht in the south of the Netherlands. I did a BSc in Molecular Life Sciences, and a 2-year MSc in Oncology and Developmental Biology. During my MSc, I did two internships at Tumour Immunology departments in Maastricht, and Antwerpen (Belgium). Here, I studied how immune cells can fight cancer. I did my PhD at the Tumour Immunology department in Nijmegen (NL) where I studied how immune cells in the lymph node can develop into a type of cancer called lymphoma.

Qualifications:

The school system in the Netherlands is different than in the UK, so my qualifications are different and I don't know how to translate them. Ask me a question about what subjects I did at school if you are curious!

Work History:

During my BSc and MSc studies at the university, I worked in a theatre (checking tickets, behind the bar, in the cloakroom) and cleaned houses of elderly people to earn some extra money to do fun things. I did a 4-year PhD (this is common in the Netherlands), and graduated 3 years ago.

Current Job:

I am a postdoctoral scientist (postdoc in short).
About Me:

I am born in the Netherlands and came to London 3 years ago to do science. I am naturally very curious and I like to talk, which are good traits to have as a scientist.

My Typical Day:

I like to be at work early to start when it is still quiet in the lab. On a typical day, I first give new food to the lymph node cells, so they grow happily, and then I study them using a microscope. Often, I also meet my colleagues to discuss our experiments and results, so we can advice and help each other.

What I'd do with the prize money:

I would like to make a "build-your-own-lymph-node" activity that I can use at Science Festivals, so (other) children and their families visiting those events can learn the important role of the lymph nodes in fighting bacteria and viruses to keep us healthy.
My Interview

How would you describe yourself in 3 words?

Social, organised, assertive

What did you want to be after you left school?

A paediatrician (= special medical doctor for children)

Were you ever in trouble at school?

Sometimes

Who is your favourite singer or band?

Mumford & Sons

What's your favourite food?

Fries (triple-cooked or sweet potato)

If you had 3 wishes for yourself what would they be? - be honest!

I wish that I would 1) be a great cook (like people on Masterchef), 2) love to do sports, and 3) be a fun mom if I ever get children.

Tell us a joke.

I'm terrible in remembering and telling jokes...
---
---