Profile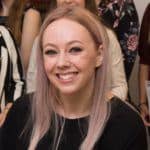 Katrina Wesencraft
My CV
Education

I went to Morrison's Academy which is in a wee town called Crieff – I couldn't wait to move to a city when I finished school.

Qualifications

I'm old enough that my qualifications are called something different now! I did Highers, which I think are now Nationals? I did English (A), Biology (A), Chemistry (A), Physics (B) and Maths (C).

Work History

At school, I worked in a vets and realised that it wasn't what I wanted to do any more! I had a few part time jobs over the five years I was at uni. I waited tables in restaurants, was a steward for sporting events and was an assistant in a hairdressers.

After my master's degree (my 5th year at uni), I got a job as a teaching assistant in the anatomy lab. My job was helping students to dissect human cadavers (the medical word for dead bodies). Some people donate their body to science after they die to help students learn about biology and medicine (some people want to do this if they're too old to donate their organs when they die).

It was a rewarding job and I really liked teaching. I was always very grateful to the people who donated their bodies because they helped me learn much better than a textbook. But even though it's what they wanted, it was quite a difficult job and sometimes it would make me sad. After that, I got to work in Edinburgh for 6 months at a medical technology company that makes software for doctors using artificial intelligence.

Current Job

Employer

My degree is joint between the University of Strathclyde and the University of Edinburgh but I spend almost all of my time at Strathclyde (where the cool Microscopes are!).
About Me:

I live in Glasgow with my boyfriend and cat. I'm in the third year of my PhD – I finish it next year and I still don't know what I want to do next! I love writing and help run a student science magazine in my free time.

Read more

I live in Glasgow with my boyfriend. We have a rescue cat called Ziggy. She bites me a lot! I'm in the third year of my PhD and am supposed to finish up next year – I don't know what I'll do next. I love learning new things and last year I started training as an aerial acrobat!

(My pronouns are she/her)

My Work:

I'm hoping to improve how we transplant cells from organ donors into patients' bodies. We want to sneak them past the immune system with a tiny 'invisibility cloak' made from a chemical which is found in seaweed.

Read more

I'm hoping to improve how we transplant cells from organ donors into patients' bodies by sneaking them past the immune system. If I said I was doing it with a tiny 'invisibility cloak', you might think I've spent too much time re-reading the Harry Potter books, but it's not as ridiculous as it seems!

Some materials can be implanted in the body without being rejected by our immune systems. These are sometimes called 'bioinvisible' materials. They're 'invisible' because they can't be seen, or detected, by the immune cells that travel around our bodies looking for things that don't belong. I'm using a bioinvisible chemical called alginate which is found in seaweed.

I work with surgeons and researchers who want to transplant cells for people with type 1 diabetes. There are over 4 million people in the UK living with diabetes, but only 10% of these people have the kind known as type 1. Diabetes is a condition that affects the pancreas (a squishy, pear-shaped organ that sits just behind your stomach).

The pancreas has two important jobs: it helps us to digest our food and it produces a hormone called insulin. In type 1 diabetes, the cells in the pancreas that produce insulin are completely destroyed. Scientists still don't know exactly how this starts, but the immune system attacks these cells by accident.

After we eat a meal, insulin helps our cells to use the sugar in our food. It uses the sugar as fuel for energy – without insulin, this sugar has nowhere to go and would have to stay in your bloodstream. Over time this can damage blood vessels. After eating a meal, people with type 1 diabetes have to take injections of insulin to return their blood sugar level back to normal.

Most people who always take their injections are healthy but insulin injections aren't perfect. Scientists think there could be a better treatment out there (and there are a lot of ideas about what it could be). Some are trying to stop or reverse the damage to the cells that make insulin, but we're interested in replacing the damaged cells.

A successful transplant of these cells would mean people with type 1 diabetes could start making their own insulin again. It sounds simple, but it doesn't always work. There are two very big problems:

Just like people who get organ transplants, people who get cell transplants need to take anti-rejection drugs. These drugs make the immune system less likely to find the transplanted cells and attack them. These drugs are very strong and have lots of side-effects but without them, the transplant would be rejected straight away and would stop working.
Even a successful cell transplant fails over time (usually after about 2 years). When the new insulin-producing cells stop working, the patient's diabetes comes back.

We still don't know exactly how the transplant stops working. We think that despite the anti-rejection drugs, the patient's immune system eventually 'sees' that the cells are from a different person (an organ donor) and it attacks them. It might even be happening because of the drug treatment. The insulin-making cells are very sensitive and anti-rejection drugs are quite toxic.

In our lab, we have a machine that lets us trap clusters of beta cells in tiny alginate bubbles. Alginate could be the perfect 'invisibility cloak' for beta cells. The bubbles have tiny holes in them that let insulin out and let oxygen and sugar in (cells need these nutrients to survive). More importantly, alginate stops immune cells from getting into the bubbles and damaging the cells inside.

This will take a very long time to perfect but, hopefully, it could lead to cell transplants without nasty anti-rejection drugs. Many more people with diabetes, especially young people, could then get a cell transplant. This would stop them from getting the damaged blood vessels that come with having years of high blood sugar. Maybe, in the future, young people could get an 'invisible' cell transplant as soon as they're diagnosed with type 1 diabetes.

My Typical Day:

I don't have a typical day – it's always different! I'm either growing cells and getting my samples ready or I'm taking pictures of them with our giant microscope.

What I'd do with the prize money:

I want to spend the money on a podcast about women in physics. Women are already doing some awesome research but I'd love to encourage more girls to study physics at uni. I need to buy some microphones, a website and a place to record.

Read more

I'm part of a women in physics group at my university – there's not many of us so we're trying to change that! I love listening to podcasts and there are lots about women in science but there isn't a podcast that's just about women in physics, so I'd like to start one. This would be to show people the awesome work that women are already doing in physics and will hopefully challenge some stereotypes. I'd love to encourage more girls to study physics at uni. I already know how to edit a podcast using free software so I would spend the money on recording equipment and venue hire. I'd love to host a live event where I'd invite women to talk about their experiences and have a discussion with the audience, recording the whole thing for a special podcast episode! I want as many people to hear it as possible and for people to download it on their phones through any podcast app. To do that, I'll also need to pay for a website.
My Interview

How would you describe yourself in 3 words?

Friendly, enthusiastic, curious

What or who inspired you to follow your career?

I've always loved biology, I had an awesome teacher in high school called Mr Beedie. I got to do a cool project in 6th year on invasive species and that encouraged me to study science at university. I didn't really enjoy my degree but I always loved research projects. In what I thought would be my last year of uni (I did four more years!), my supervisor was Dr Jenny Clancy. She made me realise that I could keep going and do a PhD project. She inspired me to push myself and keep studying.

What was your favourite subject at school?

Biology!

What did you want to be after you left school?

I wanted to be a vet until I was about 15

Were you ever in trouble at school?

Only for talking too much in class!

If you weren't doing this job, what would you choose instead?

I'd work for the Scottish SPCA or the RSPB to rescue injured animals

Who is your favourite singer or band?

Lizzo

What's your favourite food?

Spaghetti carbonara

What is the most fun thing you've done?

Travelling around Eastern Europe with my friends

If you had 3 wishes for yourself what would they be? - be honest!

I'd wish to be able to pause time, to be able to teleport anywhere in the world, and for my research to make a difference!

Tell us a joke.

What's the difference between a dog and a marine biologist? One wags a tail and the other tags a whale.
My profile link:
https://ias.im/u.247308
---
---