Profile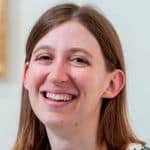 Kate Mitchell
My CV
Education:

Trinity Church of England High School Manchester,
Xaverian Sixth Form College Manchester,
University of Edinburgh,
Imperial College London,
University of Edinburgh (again!)

Qualifications:

10.5 GCSEs,
4 A levels (Biology, Chemistry, Maths, Physics),
BSc Biological Sciences: Microbiology and Infection,
MSc in Modern Epidemiology,
PhD in immuno-epidemiology

Work History:

Research Fellow at the London School of Hygiene and Tropical Medicine,
Lecturer at the London School of Hygiene and Tropical Medicine

Current Job:

Research Fellow at Imperial College London.
About Me:

I live in London. I like drinking tea, reading books and riding my bike.

Read more

I live in east London. I like drinking tea, going for walks in the country and reading books. I don't like bananas or tidying my room. I have an HIV virus cuddly toy (shown in the picture). I try and ride my bike to work every week – I get to ride past the Tower of London, the Houses of Parliament and Buckingham Palace.

Read more

I work on infectious diseases – those are diseases that spread between people. Mostly I work on HIV. I study how HIV spreads through a population, using computers and lots of information that's been collected from people. I use a computer to run a model, or simulation, of HIV passing between people – its a bit like spreading a disease in a computer game. Then I use the model to see what happens if different things happen in the future – e.g. we test more people for HIV or give more people treatment for HIV – and see what is the best thing to do to stop more people getting infected.

At the moment I mainly work on HIV in the United States, which means I get to visit the United States two or three times a year. I used to work on HIV in India and I've also done projects in China and Nigeria, which meant I got to visit them too.

The United States have a new plan to reduce the number of people getting HIV by 90% over the next 10 years. I am currently doing some modelling to see the best way for them to know that their plan has succeeded.

My work also involves giving talks about my work, usually to other scientists but also to doctors and people who make health policy, and to people affected by HIV. I also write papers about my work which get published in journals. And I also teach other people how to model HIV and other diseases.

My Typical Day:

I ride my bike into work, switch my computer on, then have a cup of tea. I spend most of the day working on my computer, doing sums or drawing graphs or writing. Sometimes I meet people to talk about their projects. And I drink more tea!

Read more

My days vary, but a typical day looks somthing like this:

9.30 arrive at work, have a cup of tea

9.30-11.30 work at my computer on my main project – writing computer code, running simulations on the computer, doing sums on data, or making graphs and writing papers about what I have found

11.30-12 check my email – I work with lots of people who live in the United States, so I often get email they sent the night before

12-1 do some more work on my main project on my computer or sometimes go to a lunchtime talk

1-2 have lunch

2-3.30 have some more tea, and have meetings with my boss or my students or colleagues about my projects or their projects. We talk about progress, discuss any problems and ways we could solve them, then talk about the next things we'll do.

3.30-5 either do some more work on my main project or look at graphs or results or papers from my students or colleagues and give feedback on them

5-5.30 check my email again, make a plan for the work I will do the next day

What I'd do with the prize money:

I would develop a new activity for school students which will show how a disease can spread between people. The activity will show how important it is to think about who contacts who, and about people who spread infection to lots of other people.
My Interview

How would you describe yourself in 3 words?

quiet, creative, geeky

What did you want to be after you left school?

A university student

Were you ever in trouble at school?

not really - I was a bit of a goody goody!

Who is your favourite singer or band?

The Beatles

What's your favourite food?

Pizza

If you had 3 wishes for yourself what would they be? - be honest!

To have thicker hair, be better at talking to new people, and have more confidence

Tell us a joke.

What do you call a deer with no eyes? No idea.
---
---