Profile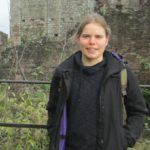 Jennifer Roe
My CV
Education

I went to secondary school at Ernulf academy in St.Neots. I studied lots of subjects at school. I really enjoyed PE and english.

Qualifications

I gained A-Cs in all my subjects at GCSE.

I left 6th form with A-Levels in english literature, history and sociology.

Nothing science related at all… yet here I am working in science!

Work History

Despite getting good grades I left 6th form and did not find a job for 6 months.

I didn't go to college or university because I was unsure of what I wanted to do.

I applied to be an animal technician from an advert in the local paper and have worked my way up from junior to a senior role within the same company for the last 9 1/2 years.

Current Job

I work as an experimental animal technician.

Employer

My employer is the Medical Research Council.

They aim to better our understanding of fundamental biological processes.
About Me:

I am friendly, sporty and like to walk long distances out in the countryside. The longer the walk the better!

Read more

I live in a large town called St.Neots. I currently don't have any pets but would like to get guinea pigs. Lots and lots of guinea pigs! I enjoy being outside and take every opportunity to go and breathe some fresh air for a few hours. I eat lots of vegetables because I like them more than I think I should. I play in a netball team and like going swimming as often as I can. I've bought a house so I have lots of space to practise my terrible singing voice as loud as possible…

My Work:

I look after the mice used in science. I keep them as happy as possible to get the best results from experiments.

Read more

My work is about making sure the mice I look after live a full and happy life within the cages they are kept in. Animals have physical and mental needs like we do. Like us they like to be happy and feel good and they dislike bad things. If we have happy animals they give us better answers for our science.

I am also the one to do the experiments to the animals. This might be changing the normal times they are awake or asleep. This might be giving them a different kind of diet that changes something in their bodies. I may give them an injection or take a blood sample. And every so often I have to collect their poo!

Every day I will watch them to make sure they are not hurt or needing some help. It is my job to care for their every need.

My Typical Day:

I am at work often before the sun has started shining. It is important to check the mice so I pick each one up to make sure they are healthy. If they are ill I will make them feel better. I give them food and water.

I may give them an injection or take a blood sample. I might watch their behaviour or give them some extra food or strange flavoured water.

I spend most of my day looking after the animals but I also talk to scientists about their work and how we can go about learning more about the way our bodies work. I also spend time on the computer using email and typing everything into databases.

Read more

As an animal technician my job is to make sure the mice are happy and healthy. I check them first thing in the morning to make sure they are not unwell, injured or are in need of some help. If they need help I will give them what they need to be better. Sometimes the animals are not able to be helped and would need to be put down.

The weight of animal is a good start in knowing whether it is healthy or not. I weigh ALOT of animals! Maybe 100's per day! I then speak to the scientist who owns the animals and tell him/her about how they are doing.

After this I would spend some of my day feeding and watering the mice. Maybe give some injections or take blood from them. I send data to the scientists by email and by telephone and help them to get their science done. I sort out any problems they may have.

At the end of the day I would clean up the room and make it all shiney ready for the next days work. I bet you dislike cleaning your room as much as I do cleaning mine at work!

What I'd do with the prize money:

Aim to get more children, teenagers or the general public into the building to come and see the animals for themselves.

Read more

I would like to see more young people or indeed the general public given the opportunity to learn exactly what it is like in an animal facility. Many have different views to the reality of the environment animals are kept in and who looks after them.

In my opinion, words only go so far. Allowing the public in for themselves, even in small numbers, all helps to better their understanding of the reality much more effectively.
My Interview

How would you describe yourself in 3 words?

Friendly, Motivated, Active

What or who inspired you to follow your career?

A love of animals

What was your favourite subject at school?

English Literature

What did you want to be after you left school?

I wasn't sure.

Were you ever in trouble at school?

Not often!

If you weren't doing this job, what would you choose instead?

Cor...Erm....professional hiker (is that a job!?)

Who is your favourite singer or band?

Nina Simone

What's your favourite food?

Salmon

What is the most fun thing you've done?

Kayaked around a cornish coastline

If you had 3 wishes for yourself what would they be? - be honest!

My house decorated without me doing anything. Not having to work. Extra holidays.

Tell us a joke.

Knock knock? Yeah I'm not good with jokes...
My profile link:
https://ias.im/u.247319
---
---