Profile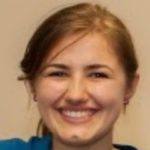 Ioana Grigoras
My CV
Education:

I went to school in a small town in Northern Romania. At the time, I wanted to become a doctor, so I moved to the capital, Bucharest, to complete my medical studies. I realised during my studies that I wanted to study Neuroscience and so, I moved to Oxford afterwards to do that.

Qualifications:

I have a medical degree from the University of Medicine and Pharmacy in Bucharest, Romania and a masters degree in Neuroscience from the University of Oxford.
I didn't go to school in the UK and we don't have GSCEs or O Levels in Romania.

Work History:

I used to babysit when I was still in school. Then, I worked as a research assistant in a lab in Romania during my undergrad.

Current Job:

I am now a full-time PhD student.
About Me:

I'm a nerd who likes brains, dancing and binging TV shows on Netflix. On a lazy Sunday morning, you can't keep me away from a waffle sundae.

Read more

I come from Romania and I moved to Oxford 2 years ago. I started salsa dancing a few years back and I like it so much that I end up doing steps when I'm waiting to cross the road. I joined the pistol club in Oxford when I moved here and I am now the Ladies Captain. After training on Sundays, we're always having brunch together and talk about the latest show we saw on netflix. I like hanging out with my friends over ice cream and my favourite flavour is passion fruit. I also really like a good cup of tea, but whenever I make it, I forget about it and end up drinking it cold. My friends always tease me about it.

Read more

My work focuses on looking at pictures of people's brains and figuring out what is different about them after they learnt a new movement. In order to take those pictures, I ask people to participate in my study and, if they want to, they get inside this big, noisy machine, called an MRI. This machine looks a lot like a doughnut 🍩 and the person's head goes inside the hole of the doughnut. While the person is in there, the machine takes one picture of the person's brain each second. What is fun about this is that the person also has a small box in their hand. The box has four buttons on it and people will press the buttons as they see them on a screen. Imagine that they are playing a short piano piece while being in the MRI.

With the pictures I get from the scanner, I can use these really smart computer programs that show me with brain areas are active when participants press the buttons. Then I can compare these patterns between before and after they learn the new movements and see what brain areas are important during the learning process.

My Typical Day:

I'm always grumpy in the morning, but having a good cup of tea on my way to work makes things better. I get to the lab, which is a room full of big screens and computers. On one of those big screens, I look at pictures of people's brains. Sometimes, I listen to music while I work and I hum along with the song.

Read more

In my work, there are two types of days. I have days when I am working with participants to my study and days when I am working with the pictures of their brains.

On participant days, I ask them to come to the lab in the morning. I explain them how the MRI machine (🍩) works and what they will have to do during the experiment. I have a laptop with me, so I ask them to practice the task on the laptop before they go into the machine. I also ask them to complete a safety questionnaire, because the MRI has a big magnet inside it, so you cannot enter that room if you have metal on you. If you had coins, all the coins would fly towards the magnet! After the scan finishes, I give them an iPad and I ask them to complete some tasks to test their memory and then they are good to go home.

On picture days, I pretty much stay at my desk all day in front of a big screen showing big pictures of brains. I write some computer programs that help me analyse what is similar and what is different between the pictures. This is how I can figure out what happens in the participants' brains when they are learning the new movements.

What I'd do with the prize money:

I would like to organise an event open to the general public to talk about the connection between mental health and art, from the perspective of both neuroscientists and artists.
My Interview

How would you describe yourself in 3 words?

Lively, mischievous, loud

What did you want to be after you left school?

I wanted to become a doctor.

Were you ever in trouble at school?

I once made my English teacher cry.

Who is your favourite singer or band?

Taylor Swift and Bon Jovi

What's your favourite food?

Waffle Sundae 🍦

If you had 3 wishes for yourself what would they be? - be honest!

Have a holiday house in the Caribbean; Have amazing food *appear* for each meal so I never have to cook again; Be brave enough to cycle to work (I can't cycle very well)

Tell us a joke.

A man tells his doctor: "Doc, help me. I'm addicted to Twitter.". Doctor replies: "Sorry, I don't follow you."
---
---