Profile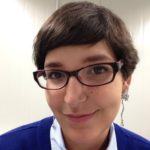 Andrea Kusec
Today I learned that people who have difficulty speaking after a stroke don't forget the words they know, they just can't access their memories of words (almost as if the words they know are suddenly hidden!).
My CV
Education:

Canadian Education

Pauline Vanier Elementary School (basically primary school, years 1 – 2)
St Monica Elementary School (switched primary school, years 3 -8)
St Augustine Secondary School (similar to secondary school + college)

Ryerson University (Bachelor's degree)
McMaster University (Master's degree)

UK Education

University of Cambridge (PhD – not finished yet!)

Qualifications:

In Canada, we don't have GCSEs or A-Levels – when we reach secondary school (known as high school), we have yearly courses with exams halfway through the year and another at the end of year. We get grades that affect our applications to an undergraduate program, but not a qualification really. In my last couple of years before university, I took classes in Philosophy, Biology, Illustration, English, Chemistry, Physics, and Mathematics.

Work History:

2000 – Delivered newspapers! I didn't stick at this too long as I don't like early mornings.
2003 – 2005 – Babysitting the neighbours kids!
2005 -2012 – I started working as a cashier in a grocery store. I was here for 7 years!
2011 – Got my first paid job as a research assistant at Ryerson University
2013 – Full time lab manager at Ryerson University

Current Job:

PhD Student! I get paid to study – I consider myself very lucky 🙂
About Me:

I am a Canadian student in the UK. My favourite animals are cats, I love cycling, and I love cooking pasta.

Read more

I am a PhD student in Cambridge. I am originally from Canada, the land of maple syrup and Carly Rae Jepsen. I have watched all 10 seasons of Friends more times than I'd like to admit, and I strongly believe that as an adult it's just as important to be silly as it is to be serious. I know many terrible jokes, and I love to sing (whether on my own, at karaoke, or when cycling into work). If I could have a superpower, I would DEFINITELY like to have the power to teleport places.

Read more

My field of research is called neuropsychological rehabilitation – it's a lot to say, I know! This is a very small area of work around the world, meaning very few people work in it. This area focuses on helping people with a brain injury – such as from a road traffic accident, a stroke (brain bleed), or an infection to the brain. After a brain injury people can have physical difficulties (such as a broken leg, vision changes), cognitive difficulties (poor memory, hard to pay attention) or emotional difficulties (feeling sad a lot or worrying too much). I focus on the emotional difficulties – it's very common after a brain injury to feel down or depressed, but their injury makes it harder to get better. I am trying to develop a treatment for low mood in brain injury that is sensitive to the cognitive and physical changes they have.

My Typical Day:

Most of my days are working with people with a brain injury – we work together to solve problems in their day-to-day life, with a focus on learning how to take part in things that make them feel happy, such as laughing with a friend. We know that in order to change how we feel, we have to change what we do!

Read more

7:00am – My first alarm goes off. I always ignore it.

7:30am – I drag myself out of bed, trying my best not to be a zombie, to get ready for work.

9:00am – I cycle to work – in the spring time I cycle by cows on the way in 🙂

9:15am – Emails. So many emails.

11:00am – I meet my research participants – people with a brain injury – and we have tea and biscuits and a laugh, and start talking about their week. We talk about what was easy to do in the past week (maybe seeing a film!), and what was hard (having a disagreement with a friend), and we talk about ways to keep up with the things that are going well and work on solving the tough things together.

12:00pm – I teach my participants a little bit about the brain, and how after it is injured we are more likely to fall into bad habits (like not leaving the house for a few days or avoiding people) and how this affects how we feel. My participants learn new ways to stop feeling distracted, and how to recognise when they are falling into bad habits.

1:00pm – After my participants leave, I try and think about what went well in the group and how I can make the work easier to understand for when I next meet my participants.

2:00pm – I try and do some data analysis – basically I work on my computer with a bunch of numbers and try and make pretty pictures out of them. I also try to find important patterns between those numbers – for example, does being worried about the future relate to how often you see your friends?

3:45pm – Tea time! My work has tea time every day and it is a VERY important part of my day.

4:15pm – I try and prepare for the next day – create the materials for the next group of participants, change any documents, and make sure to remind my participants – after brain injury, it's easy to forget things!

6:00pm – If I'm not going to a lecture or event in Cambridge, I head home! I like to make pasta for dinner a lot 🙂

What I'd do with the prize money:

I want to create more awareness about brain injury, but combine this with my love of laughter and my love of board games. I'd like to create a board game for schools about the journey to recovery after brain injury!
My Interview

How would you describe yourself in 3 words?

Stubborn, Enthusiastic, Dramatic

What did you want to be after you left school?

A psychologist! But also maybe graphic design.

Were you ever in trouble at school?

Yes, embarrassingly - I skipped French class :(

Who is your favourite singer or band?

Carly Rae Jepsen, hands down.

What's your favourite food?

Panang Curry - can't go wrong!

If you had 3 wishes for yourself what would they be? - be honest!

1) The power to teleport anywhere, anytime 2) Stop the effects of climate change and 3) A bajillion pounds (everyone wishes for this, right?)

Tell us a joke.

What do you call an alligator in a vest? An investigator!
---
---