Profile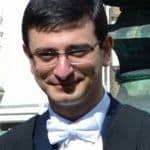 Aleksandr Sahakyan
My CV
Education:

Basic School No 185 in Yerevan, Armenia -> BSc+MSc in Pharmaceutical Sciences from Yerevan State Medical University -> MPhil in Computational Biology from University of Cambridge (Department of Applied Mathematics and Theoretical Physics) -> PhD in Theoretical and Biological Chemistry from University of Cambridge (Department of Chemistry).

Qualifications:

Work History:

2003-2005 – Contractor (Laboratory of Porphyrines, Yerevan State Medical University, Armenia) ->

2005-2008 – Research assistant (Molecule Structure Research Centre, Natl. Acad. Sci., Armenia) ->

2007 – Research visitor (NIH – National Institutes of Health, Bethesda MD, USA) ->

2012-2017 – Research fellow (University of Cambridge, Department of Chemistry and Darwin College, UK)

Current Job:

Group Leader (Integrative Computational Biology and Machine Learning).
About Me:

A curious mind tinkering about how all this complexity of life emerged from simpler rules and processes. I like to code, read and de-code the books that use mostly 4 letters in their text – A, T, G and C. You have 23 volumes of such books stored in your cells!

Read more

I give computers enough intelligence to recognize complex patterns within our DNA blueprint and the molecular machinery of life, linking those with health and diseases.

What I'd do with the prize money:

Many know about DNA double helix structure (right? if not, ask me). Have you heard about DNA quadruplex (4 strands), DNA triplex (3 strands), iMotif (not a phone) or DNA minidumbbell (not too useful in a gym) structures? Worry no more if I get the prize money (click "Read more" to find out why).
My Interview

How would you describe yourself in 3 words?

Human computer symbiont.

What did you want to be after you left school?

For as long as I can remember, I always wanted to become a scientist. The specific interests quickly shifted from oceanography to computational chemistry and biology.

Were you ever in trouble at school?

Once my class was evacuated after my experiment in a back laboratory went amok spilling butyric acid that smells like rancid butter. We could not return to the same classroom for a few months, because of the persistent bad smell.

Who is your favourite singer or band?

Celtic Women (band), Andrea Bocelli (singer).

What's your favourite food?

Roast chicken; I am not complete without one in a week.

If you had 3 wishes for yourself what would they be? - be honest!

Having lots of time; reducing my sugar intake (cannot live without); piloting an airplane, spaceship, or a time machine (any would do).

Tell us a joke.

What is a dinosaur's least favorite reindeer? Comet!
---
---